Are you a Gryffindor? Slytherin? Ravenclaw? Hufflepuff? Get sorted and earn your House points for the Cup!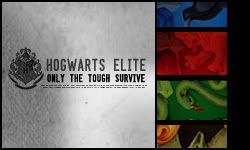 Hogwarts Elite is a LiveJournal Sorting community for the finest and the elite. It is the most prestigious sorting community and has roughly around more than 300 active members. Hogwarts Elite is not your average sorting community. We offer a wide variety of activities, games, and contests for the students after they've been sorted. Most of these opportunities also feature a point reward for your house when you participate. For more on what goes on at H_E, you can choose to read the FAQ.

So what are you waiting for? Prove your prowess and apply now at
sorting_elite!

ETA: Should you need a sponsor, I'm very willing to help anyone out. Just leave me a comment on my journal and I'll get back to you ASAP.